Campaign against demolition & monstrous development.
Campaign for refurbishment and sensitive redevelopment.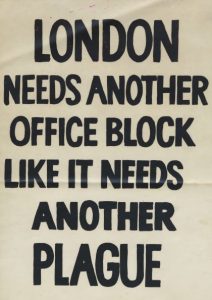 We couldn't really do better than this simple, and oh so chillingly relevant, poster from our 1970's campaigns.
This new office block would be over 80 metres tall – 70% as high as Centrepoint, and many times more bulky.  Standing a short distance from the British Museum it would tower over our narrow streets and be seen from the capital's most precious conservation areas in places like Bloomsbury Square, Seven Dials and Lincoln's Inn Fields.
Covent Garden Community Association, Bloomsbury Association and many auspicious organisations have joined with local residents and businesses to urge the developers to think again.  Take a look at our campaign brochure and get involved.
Our friends at Save Bloomsbury summarised the situation brilliantly with their initial article and an update.  The Guardian published an article on 24th July which cites this destructive scheme at its conclusion, in the context of history's continual struggle between people who know and love the place where they feel they belong versus those who come in wanting to change it forever.
Please click here for information on how you can help us fund our defence against the scheme.  And the developers, Labtech, have put up a website to publicise the proposals.