Covent Gardeners and their area
Our Neighbourhood
More than 6,000 people live in Covent Garden as their primary home, including many families and children.  This may come as a surprise to those who know it only for its thriving night life, world-class theatres, shopping and tourist attractions. 
Thanks to the historic work of the CGCA, there is a strong core of excellent social housing which means there is a stable residential population, in many cases several family generations living close together.
These people, and others who call Covent Garden home, care passionately about its fabric, its history and its sustainable future. They provide a vital counterbalance to those whose prime interest in the area is short term gain.
As property prices become increasingly unaffordable for ordinary people in Central London, CGCA continues to press for social housing to be included in, or as a spin-off of, large redevelopments.
---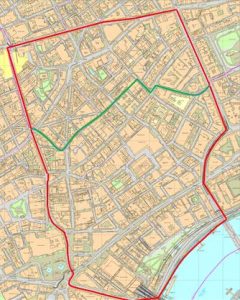 The area that we cover as the amenity society is bounded by High Holborn, New Oxford Street, Charing Cross Road, Northumberland Avenue, Victoria Embankment, Lancaster Place, Aldwych and Kingsway (see our constitution here).
It straddles the borough boundary between London Borough of Camden (Holborn & Covent Garden Ward) and the City of Westminster (St James's Ward), shown in green.
It includes two conservation areas – Covent Garden and Seven Dials – with a substantial number of listed buildings.  It also contains two primary schools, two community centres, an open air swimming pool, an award-winning community garden, a sports hall, two museums, seven churches, nine theatres and several ghosts.