FESTIVAL TO CELEBRATE 30 YEARS OF THE (NEW!) SEVEN DIALS PILLAR
Saturday 29th June 2019, all around Seven Dials from 11am to 6pm
.
Street performers, Children's games and painting, Story telling, Community stalls, Music, Food and more, as part of 'Festival 30'…
… as well as two exhibitions at 19 Earlham Street that explain and celebrate the history ancient and modern of this remarkable area – the only surviving streets of Stuart London.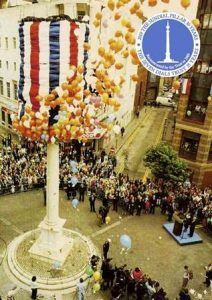 In June 1989 the new sundial pillar was unveiled by HM Queen Beatrix of the Netherlands, in a ceremony recorded in this picture.
The Dutch connection dates from the 17th century when Thomas Neale MP, who developed Seven Dials, was one of those who greeted William of Orange when he arrived in England in 1688 and helped him through the complications of what came to be known as 'The Glorious Revolution'.
The first sundial pillar had been put up in 1693 but it was removed in 1773.  Explore its history at the Seven Dials Trust website.  Or come along to the exhibitions on Saturday!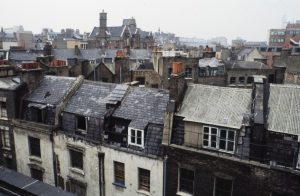 Centuries of mixed history culminated in the Seven Dials area being semi-derelict by the time Covent Garden market moved out in 1974.  This is a view over Shelton Street towards Cambridge Circus in the early 1980s.  It's perhaps hard to recognise now.
The Seven Dials Trust was established in 1984 to breathe new life and character into the 'lost' neighbourhood.
Saturday will also be a celebration of the Trust's 35th anniversary.  Please come and join in.