Planning update on proposals for Old Brewers Yard – Guinness experience
Planning update
Old Brewers Yard (Shelton St, Langley St, Neal St & Mercer Walk) – proposals by Guinness across 4 buildings & yard.
May 2022
A large planning application has been submitted to Westminster City Council for the Guinness development around Old Brewers Yard, Shelton Street, Neal Street, Mercer Walk and Langley Street.  The revised deadline for comments is 1st June.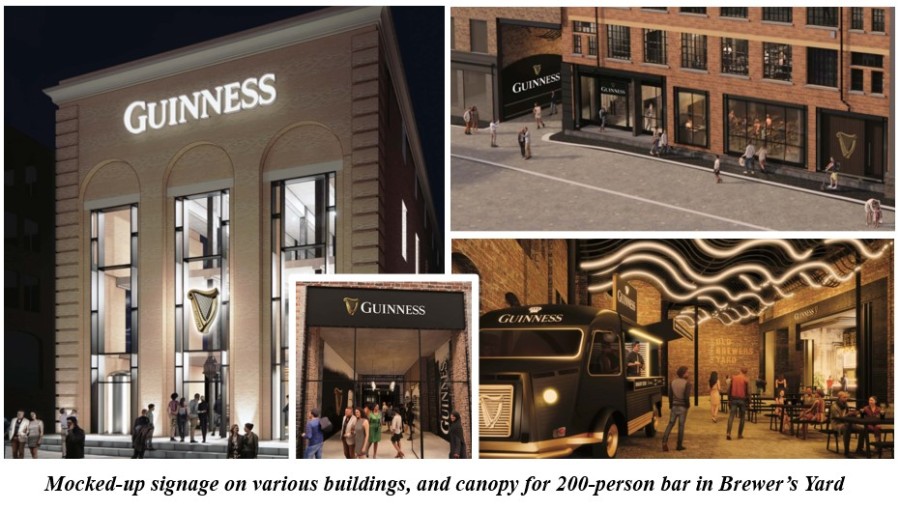 CGCA has some serious concerns about the proposals.  The issues fall into two categories:
Over-intensification, bringing thousands more people each week into a small residential area, for drink-led activities.

The unsympathetic design and height of the proposed 2 storey roof extension and other new elements.
There is a positive educational element, highlighting the history of brewing in the area, training young people, and restoring a little brewing activity in one of the old brewery buildings.  But these benefits do not, in our view, outweigh the issues with the proposals as they currently stand.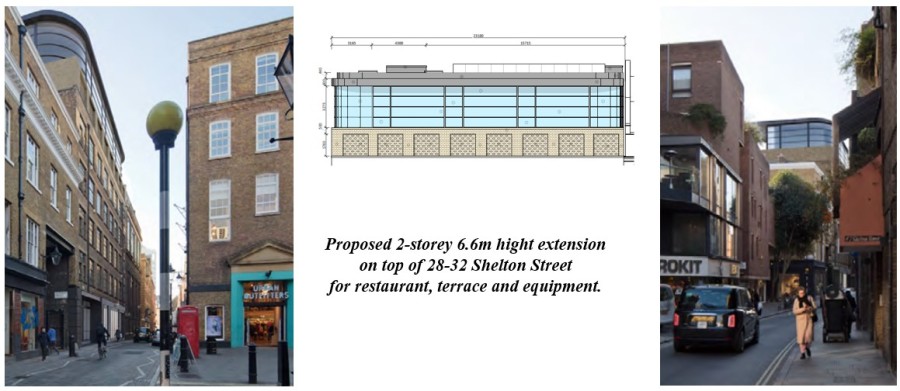 We have not yet formed a view as to whether CGCA should object to the proposals outright, or to suggest modifications and conditions that might make them acceptable.  We are asking local residents and other businesses what they think, in order to inform our view.  The recent change in political administration at Westminster council has said that it will listen carefully to local views.
All the documents for planning application ref. 22/02009/FULL can be found on Westminster's planning portal here, where people can also login to their Westminter account (or quickly create one) and submit their comments.  We attempt to summarise the proposals, and our take on them, below.
(Licence applications for the same buildings were submitted in March.  Information can be found about those on our Licensing update page here).
The uses proposed for various building areas are:
Part of development
Address
People seated / standing
Existing use
Proposal

Old Brewers Yard

28 Shelton St.

100 / 200

Service yard.

Public semi open-air bar, open to all until 'Core hours' *.  Events.  Main gate on Shelton St, new passageways to Langley St. & Neal St.

Langley St basement

5 Langley St.

130 / 250

Bar with entertainment.

Private events, sports screenings etc. until 'Core hours' *.  New entrance via passageway to Langley St.

Restaurant building

28-32 Shelton St.

337

Offices & new 5th & 6th floor.

Restaurants, bars & private events open until 'Core hours' *. 6th floor open terrace area open until 10pm.

Brewery building

1 Mercer Walk

220

H&M shop

Micro-brewery with tours.  Private events & sale of beer for consumption away from premises. Open until 'Core hours' * but brewing from 6am.

Retail shop

15 Neal St.

15

 Tea House

Sale of beer until 'Core hours' * for consumption away from premises.  Also acting as passageway to yard area.

Total people:
802 / 1,022
* 'Core hours are Monday to Thursday until 23.30, Friday & Saturday until Midnight, Sunday until 22.30. However, if not restricted by Planning conditions, these can be extended to 24/7 up to 20 times a year using 'Temporary Event Notice' licences which local people cannot object to as long as they last a total of no more than 26 days (624) hours each year.  This is why it is so important to have hours of use added to any Planning permission.
Deliveries & servicing is proposed to take place between 7am and 10am.  However, we believe that this is too early a start in such a residential area where delivery vans have become a law unto themselves.
This map shows the layout of the buildings and their proposed capacities: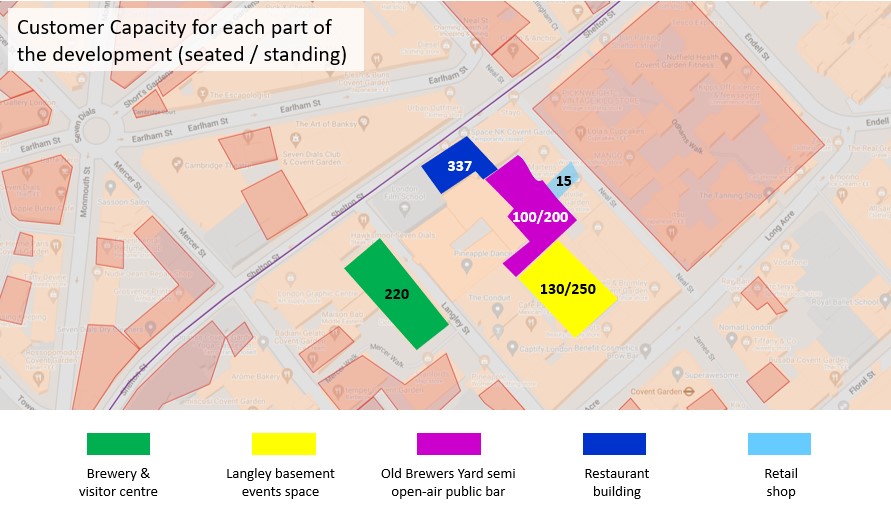 If Planning permission were granted, this summary outlines come conditions that CGCA feels might mitigate the worst potential problems and bring some community benefit:
| | |
| --- | --- |
| Part of development | Changes & conditions that might mitigate problems (more detailed suggestions further down page) |
| Old Brewers Yard | Only 100 people, all seated.  Closing time 11pm.  Shelton St. gate shut at 10pm; exit later via Langley St. passage.  No music, nor sound from screenings, to emanate.  Higher gate to contain noise.  Lighter, transparent canopy design. |
| Langley St basement | Opening restricted to 'Core hours' by Planning condition, but noisy sports events closing by 22:00 & only 130 people so all can be seated.  Complimentary slots for community events. |
| Restaurant building | No 2 floor roof extension; a 1-storey brick mansard might be OK.  Opening restricted to 'Core hours' by Planning condition but terrace to close by 20:00, with planting to reduce sound and overlooking.  Complimentary community office space. |
| Brewery building | Bar for ticketed visitors only.  No noise emanating.  Open Monday to Thursday 08:00 to 21:00, Friday 08:00 to 22:00, Saturday 09:00 to 22:00, Sunday 10:00 to 21:00, with no brewing earlier.  Western door & beer shop closing at 21:00. |
| Retail shop | Door onto Neal St. closed at 8pm. |
We also propose that all Deliveries & servicing should only take place from old Brewers Yard and Mercer Walk, not in any surrounding streets as they cannot cope with any more.  And deliveries should not start before 8am on weekdays and 9am at weekends, not 7am as proposed; it is unfair to expect residents to be kept up late and then hit with more noise early in the morning.  Some streets nearby are already chaotic well before 8am.
————
If you are concerned, please submit your comments to Westminster council.  It is important that your individual voice is heard.  Even if your views are similar to those expressed by the CGCA you should submit them to Westminster separately.
We give detailed rationale for our position below.  However, please contact us via Planning@CoventGarden.org.uk if you have other points that you would like us to consider.
————
Initial proposals, February 2022
Diageo want to update the image of their Guinness brand, to include a hub in central London to augment their centre in Dublin.  They have chosen a complex of buildings owned by The Mercers Company between Long Acre and Shelton Street where they propose to install a 'brewing experience', restaurant, bar, events space and an al fresco food & drink court.
A presentation was made to members of the CGCA Planning Subcommittee in January 2022.  We gave feedback to Guinness and to The Mercers which we outline below.  We also asked them to carry out early consultation with the local community, and information is now live at this link where they are asking for feedback by 17th February.  They are running two info sessions:
– via Zoom on Monday 7th February at 6pm.  email tom.johnson@diageo.com to register.
– drop-in on Monday 14th February, 2pm to 7pm on 2nd floor of 28-32 Shelton Street.
If you are interested, please attend one and ask questions.  We have set out some of our own questions below.  This video helps to visualise the quite complex proposals (press the play arrow, or it will not work properly).
It's worth noting that the buildings were actually part of the Combe Woodyard brewery which operated from the 1720's until 1905.  These images show what it looked like in the 19th century.  The first view is from the Crown & Anchor pub.  The second is up Langley Street.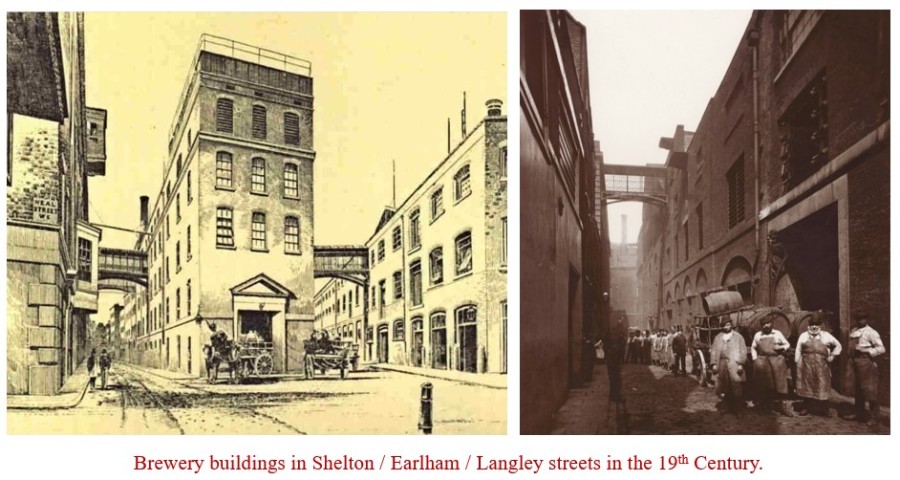 CGCA's view, in summary, is that the educational aspects of the proposal are exciting, highlighting relevant history and restoring some brewing activity to the area.  But we have serious concerns in relation to intensification; if this scheme is to work at all, it will need to be impeccably managed with tight planning / licensing conditions in what is a highly residential area.  And we have a strong objection to the design and height of the proposed roof extension.
Building by building, read our initial comments here.