Licensing update on Permanent licences for 'Streateries' in Seven Dials
Licensing update
Permanent licences for 'Streateries' in Seven Dials
January 2022
Camden council allocated parts of some streets for additional eating and drinking during the pandemic in 2020-21, which they call 'streateries'.  They added capacity over and above a) tables & chairs permission that many premises already had, and b) new pavement licences that premises applied for as part of the pandemic recovery for areas of street directly outside their businesses.
In Autumn 2021 Camden announced that it felt it was legally required to go through a consultation to allow these streatery areas to continue.
CGCA and other amenity groups appealed to the council's licensing committee, saying that this was not legally necessary and, in any case, it was not reasonable to make permanent changes without a wide conversation about the kerbside and the many demands upon it.  This is, after all, public space which belongs to us all.
Camden went ahead with the consultation in any case.  It is, in fact, consulting on turning these areas into 'street trading' sites, which would be managed by the council's markets team and could be used for for the sale of any types of goods on the street in the future, for example food cooking stalls.
There are two areas proposed in Covent Garden: the centre of Neal's Yard and a section of Earlham Street.  Both consultations can be found on Camden's website here.
We have  asked the council a number of questions since the start of the consultation, in particular why this additional capacity is required, and why make any areas for trading permanent.  Unfortunately, the answers are incomplete and show that the proposals seem to be based on incorrect data.
The CGCA must therefore oppose both designations.  We give reasons below.
1. The centre of Neal's Yard.
Hospitality businesses in Neal's Yard already have permission for 54 chairs and 28 tables, as you can see from the little map that we have marked up here.  The central area, if laid out as it was last Summer (in the picture below), would increase this to a whopping 72 chairs and 37 tables.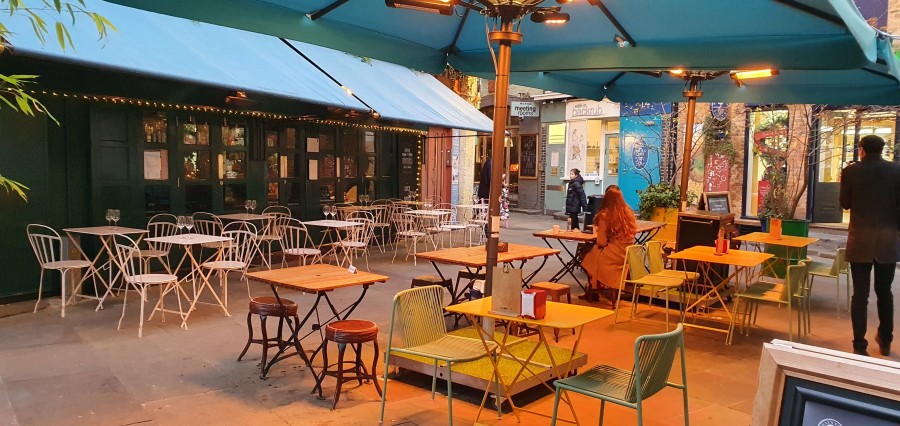 CGCA's contention is that the existing consents are already at the limit of what the Yard can cope with, and that any more commercial service space is inappropriate.  The existing tables & chairs permissions are not mentioned in the consultation.
The communal bench seating shown here was paid for by local people and installed in the central part of Neal's Yard many years ago as a free amenity.  It was put into temporary storage at Camden's request at the start of the first pandemic lockdown in 2020, and was due to be reinstated in 2022.
Camden has told us that "premises continue to require additional seating to remain viable".  We believe that this is an out-of-date assumption as the businesses who will benefit are full to bursting, with long queues waiting to get in but not to sit outside.  And, even if it were the case that they needed outside seating now, it is no reason for a permanent change.
Residents of Neal's Yard, and some businesses there, have asked us to support them in opposing the idea.  They give many reasons, but the main ones are:
Local people and visitors should be able to linger in some parts of Neal's Yard, as they have done for years, without having to sit and pay to eat or drink.
More people eating and drinking (and being cleared up after) means more noise for residents in this echoey space.
Umbrellas are necessary to contain noise from diners, but they make the Yard dark and block views from everyone's windows across the Yard. They also block visitors' views from seeing the frontages of other businesses.
There needs to be some free space in the middle to allow clear passage to people's homes and to other businesses.  Not to mention access for emergency services in an area with many commercial kitchens fired up close together.
CGCA believes that the central area should either be left uncluttered or used for some well-spaced, free seating and plants, as before, with enough room for clear passage.
2. The portion of Earlham Street opposite the Cambridge Theatre.
Hospitality businesses in Earlham Street (East) already have permission for about 100 seats and 30 tables, as you can see on the list from Camden's planning portal here.  The additional area opposite the Cambridge Theatre, if laid out as it was last Summer, would increase this by another 36 seats and 6 large tables.
The area was formerly parking spaces and loading bays, which are sorely needed in the Earlham Street area where we have so few left.  People tolerated their removal to cope with the pandemic.  But now that families and businesses are returning to busy activity, some space is needed for these things again.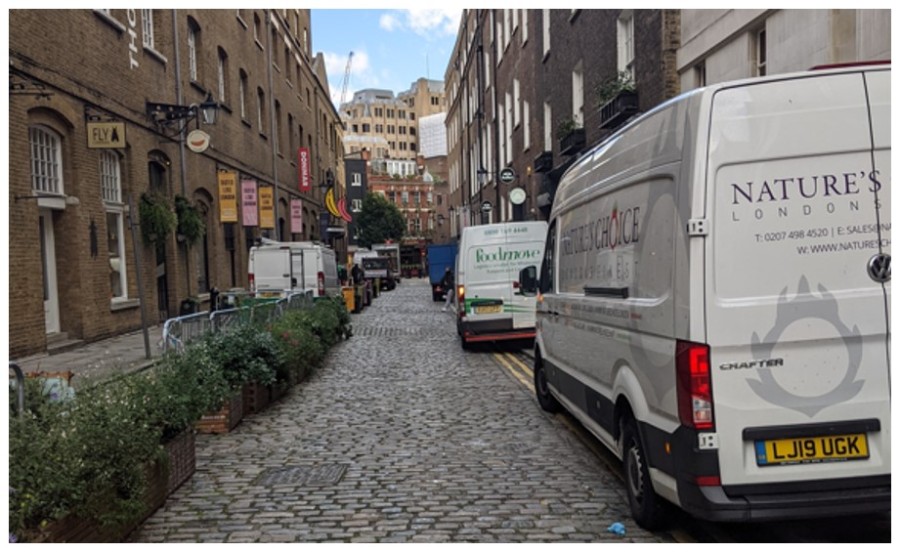 Deliveries are having to take place illegally on pavements.  Pedestrians are pushed into the road, and disabled people sometimes cannot progress down Earlham Street at all.  Other traffic backs up when it's busy.  Families, chasing fewer parking spaces, can't unload their kids.  Grocery vans have even cancelled some customers.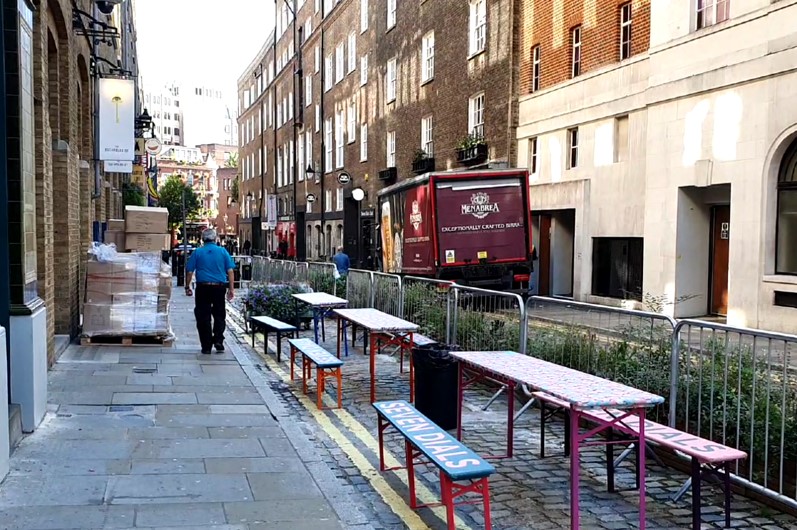 The police require that this additional space is protected by weighted barriers if it is used by people to sit out, because it could be rammed.  But the weighted items (currently planters) cannot be removed to make space for other uses at any time, so it cannot even be shared across the day.
Camden has told us that "Streateries are intended for the use of businesses that do not have sufficient space adjacent to their business. It may be the case that the businesses have some space where some furniture can be placed directly outside but there is a requirement to have additional seating to support the business in space that is made available."  And they have told us that, in this case, the space is for three businesses: Kerb, Escapologist and White Pine.
Again, we believe that this does not justify the argument for permanent designation because all these businesses are already beneficiaries of the more than 100 extra outside covers permitted nearby on the same street.
CGCA believes that a section of Earlham Street should be allowed to return to loading and parking space, or to other uses for the community – at least at busy times.  But assessing which part, and when, should be part of a proper audit after the pandemic.
– – – – –
It should be noted that proposals to designate these areas did not, despite what some have assumed, come from Shaftesbury plc.  It seems to have been as much as a surprise to them as to us.  They tell us that they made the applications for designation of the areas at the request of Camden because they were concerned that if they didn't then some other business might do so.  They, like the CGCA, are not sure that the designation, at this stage, would be a good thing.
– – – – –
If you have any questions or other points, please contact the CGCA's Licensing Sub-Committee at licensing@coventgarden.org.uk.
– – – – –
CGCA has also been working on a paper called 'Conflict at the Kerbside', and an early draft can be seen via CGCA's 'Current Issues' page here if you are interested.  It talks about how the kerbside is public space and everyone wants a piece of it – whether businesses or residents for parking and deliveries, restaurants for seating, taxis for drop-offs, bicycles for docking, electric vehicles for charging etc. – Westminster tell us that they have a list of over 40 competing uses!
Our paper urges our councils not to rush to give kerbside away for any single use or interest in perpetuity, and not even all day / every day / all year, now that we have the possibility of 'smart kerbsides' where uses can be mixed and shared.