News / Events
Our rolling page of News and Events
(including those over the past year – m
ost recent first).
---
ANNUAL CAROL SERVICE

AND CHRISTMAS RECEPTION
Monday 11th December 2017. 
6.30pm at St. Paul's Church, Covent Garden.
The most convivial event in the Covent Garden calendar!
Everyone is welcome, of any faith or none, as we celebrate Christmas with carols, readings, music and food at this beautiful church in the heart of our neighbourhood.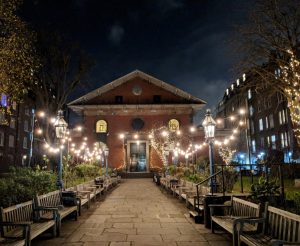 Guest performers this year include local children, Royal Opera House soloists, children from Sylvia Young Theatre School (founded in Drury Lane in 1981), and our very own international soprano Alison Pearce.
Blooming Good Scents florist at Chancery Lane, which has always been run by Covent Garden residents, has given some lovely bouquets for us to present to them.
Please plan to stay on to chat with
friends old and new, and to meet your neighbours over fizz and other drinks with a light buffet kindly sponsored by 'Covent Garden London'.
The service starts at 6.30pm, and the reception at about 7.30pm.
You can print the usual simple poster / flier from here.
Or there is a more ink-intensive, great new design from St. Paul's to print from here.
Or just let us know if you need some posters delivered.
---
Phoenix Garden is back – and looking amazing!
Come along to one of the FREE Arts & Crafts sessions in the new building this Autumn.  The flier is on the right with all the details.
The building is gorgeous, and available for hire to support the work of the garden – a lot of which is done by volunteers.
Or just pop in to enjoy our peaceful, green oasis in the middle of the craziness of the West End.  It is open every day from 8.30am to 6.00pm.
Please consider becoming a Friend of The Phoenix Garden at http://www.thephoenixgarden.org/membership-signup/
---
Public exhibition scheduled for public realm improvements
Capco Covent Garden is working with Westminster City Council to bring forward proposals to enhance the public realm in Covent Garden. These proposals include a package of measures to improve vehicle flow, prioritise pedestrians on Henrietta Street for part of the day, and improve air quality.
The proposals would also see a reversal of vehicle flow along Maiden Lane, improvements to the potential public realm enhancements in Henrietta Street, Maiden Lane, James Street and Russell Street, better co-ordinated freight and waste servicing, and enhanced safety.
Subject to feedback, the proposed changes to Henrietta Street would be introduced for an initial 18-month trial period.
Capco is keen to share these plans with local residents and businesses and is holding a public exhibition, where you will have the opportunity to review the proposals and meet representatives from Capco Covent Garden, BDP Architects, WSP transport engineers and Westminster City Council.
The public exhibition will be held at the ground floor of 29 King Street, WC2 on:
Thursday 21st September from 3pm to 6pm
Friday 29th September from 9am to 12pm
Tuesday 3rd October from 5pm to 8pm
---
DISCOUNT & OFFERS 

SCHEME

FOR LOCALS

2017 sees the re-launch of the 'I Love Covent Garden' discount scheme exclusively for residents and people who work locally.
This offers real, straightforward discounts and offers at various shops and eateries.  Some give a whopping 25% off.
Sign up, and browse the current offers, by clicking on the 'I LOVE COVENT GARDEN' image…
If you have an old rewards scheme card, you can continue to use it – or pick up a new one at a the Information Office in The Market Building once you have signed up and had confirmation.
---
CGCA Calendar of Events