News / Events
Our rolling page of News and Events (including those past – m
ost recent first).
---
Phoenix Garden is back – and looking amazing!
Come along to one of the FREE Arts & Crafts sessions in the new building this Autumn.  The flier is on the right with all the details.
The building is gorgeous, and available for hire to support the work of the garden – a lot of which is done by volunteers.
Or just pop in to enjoy our peaceful, green oasis in the middle of the craziness of the West End.  It is open every day from 8.30am to 6.00pm.
Please consider becoming a Friend of The Phoenix Garden at http://www.thephoenixgarden.org/membership-signup/
---
Public exhibition scheduled for public realm improvements
Capco Covent Garden is working with Westminster City Council to bring forward proposals to enhance the public realm in Covent Garden. These proposals include a package of measures to improve vehicle flow, prioritise pedestrians on Henrietta Street for part of the day, and improve air quality.
The proposals would also see a reversal of vehicle flow along Maiden Lane, improvements to the potential public realm enhancements in Henrietta Street, Maiden Lane, James Street and Russell Street, better co-ordinated freight and waste servicing, and enhanced safety.
Subject to feedback, the proposed changes to Henrietta Street would be introduced for an initial 18-month trial period.
Capco is keen to share these plans with local residents and businesses and is holding a public exhibition, where you will have the opportunity to review the proposals and meet representatives from Capco Covent Garden, BDP Architects, WSP transport engineers and Westminster City Council.
The public exhibition will be held at the ground floor of 29 King Street, WC2 on:
Thursday 21st September from 3pm to 6pm
Friday 29th September from 9am to 12pm
Tuesday 3rd October from 5pm to 8pm
---
DISCOUNT & OFFERS 

SCHEME

FOR LOCALS

2017 sees the re-launch of the 'I Love Covent Garden' discount scheme exclusively for residents and people who work locally.
This offers real, straightforward discounts and offers at various shops and eateries.  Some give a whopping 25% off.
Sign up, and browse the current offers, by clicking on the 'I LOVE COVENT GARDEN' image…
If you have an old rewards scheme card, you can continue to use it – or pick up a new one at a the Information Office in The Market Building once you have signed up and had confirmation.
---
ANNUAL CAROL SERVICE AND CHRISTMAS RECEPTION
Monday 12th December. 
6.30pm at St. Paul's Church, Covent Garden.
The most convivial event in the Covent Garden calendar!  Everyone is welcome, of any faith or none, as we celebrate Christmas with carols, readings, music and food at this beautiful church in the heart of our neighbourhood.
Guest performers this year include The Covent Garden Brass trio, Royal Opera House soloists, international soprano Alison Pearce, and Pineapple children's singers.
Please stay to chat with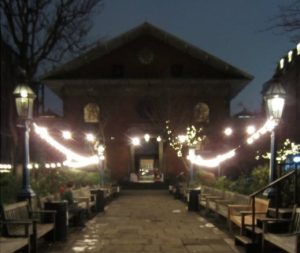 friends old and new, and to meet your neighbours over fizz and other drinks with a light buffet kindly sponsored by 'Covent Garden London'.
The service starts at 6.30pm, and the reception at about 7.15pm.
There will also be a seasonal raffle.
Please print off a small poster for your building, from here.  Or let us know if you need some delivered.
---
Revisions to Parker Tower development available online

Several amendments to the Parker Tower redevelopment, which received permission from Camden Council, are being proposed. These include:
i.        Internal alterations to floors 6, 7, 11, 12 and 13;
ii.        Corresponding minor amendments to the façade of altered floors;
iii.        Increasing the number of apartments in the tower from 46 to 51;
iv.        Increasing the number of one-bed apartments from 11 to 17 and reducing three-bed apartments from 11 to 10; and
v.        Additional cycle and refuse storage in the basement.
The proposals do not change the massing or the height of the existing permission. According to the developer,  the existing permission for the tower provides a mix of units that are overly large and are not in demand in the local area.  There is no change proposed in overall floor space. To view the proposals and offer feedback, view the online exhibition at http://www.parkertower.co.uk/ november-2016-consultation. html.
Public exhibition at The Hoxton, Thursday, 10 November

The Hoxton, Holborn, will hold a holding a public exhibition on Thursday 10 November from 5.30pm to 8pm in The Apartment at The Hoxton, 199-206 High Holborn, WC1V 7BD. The exhibition is for the community to view the proposals and designs for an extension to the south of the hotel over the existing, external service yard to provide 47 new bedrooms in a new west wing and an extra single storey on the existing Newton Street wing.
2016 Annual Street Festival
"Roll up, roll up" on Saturday afternoon, 13th August.  Earlham Street will be car-free, and the local community will be out in style with our 'Stupendous Tombola" and our "Old Fashioned Fun & Games" stalls, as well as a silent auction of star items.  Local businesses have donated some fantastic prizes, including meals with wine from many of our best restaurants.  Click here to see a list of what is on offer from generous local donors and come to try your luck!
Usually CGCA has held a street festival in September, but this year we are doing something a bit different.  On the same day as the Seven Dials Spotlight event, we will be taking half of Earlham Street between the Dial and Neal Street for our stalls and activities. Some local people and traders will also have stalls on Shorts Gardens.
We hope that it will be as much fun as ever, and the whole event is bigger.  But we also hope that it will prove a little less work for our volunteers who usually have to organize all the performers, street closures and everything else as well!
This annual day is an important fundraiser for the Community Association, so please come along and support us.
2016 Annual General meeting
Tuesday 21st June 2016, 6-6.45pm, with drinks and light refreshments afterwards.
The agenda and papers for the AGM are here.
Please print off an A4 poster and put it up in your block.
Followed by the…
2016 Reps Reception
For member Tenants' Associations, Residents' Associations, Street and Block reps – and AGM attendees.
Tuesday 21st June 2016, 7pm at the Seven Dials Club.  This convivial event is a chance to catch up with neighbours in the area, share issues of common local interest, and discuss how any wider problems might be tackled.
For catering purposes, it would be helpful if you could email rsvp@coventgarden.org.uk if you are planning to come, or if you would like more details.  Or leave a message on 020 7836 5555, and we will call you back.
Spring 2016 Newsletter
Read our most recent newsletter here.
2016 May Fayre
Come and chat to us on our stall at the lovely Covent Garden May Fayre & Puppet Festival on Sunday 8th May in St. Paul's Churchyard.  The weather is set to be gorgeous, for a change!
The Grand Procession led by the jazz band starts at 11am, the Church Service at Noon, and performances from Punch & Judy men from all around the UK continue until 5.30pm.
125 Shaftesbury Avenue block redevelopment, Camden Development Management Forum.
Find out about a redevelopment proposal for the large block at 125 Shaftesbury Avenue, WC2 before a planning application is submitted.
Tuesday 19 April 2016, 7pm to 9pm at Dragon Hall, 17 Stukeley Street, WC2B 5LT
The purpose of the meeting is:
• to discuss the proposal before a planning application is made;
• to give local people the opportunity to ask questions and give their views on the proposals as they currently stand.
Everyone is welcome to attend. A planning application has not yet been received from developer for this site. If one is submitted in the future the Council will publicise and consult on the application in the normal way.
Contact • Tel 020 7974 1797 • E mail planning@camden.gov.uk
125 Shaftesbury Avenue block redevelopment, Public Exhibition.
Planning proposals for the redevelopment of 125 Shaftesbury Avenue will be the subject of a public exhibition at the following days and times:
Monday 21 March: 4pm – 7.30pm
Tuesday 22 March: 4pm – 7.30pm
Thursday 31 March: 4pm – 7.30pm
Friday 1 April: 10am – 2pm
Saturday 2 April: 10am – 2pm
The exhibition will be held at the Bloomsbury Hotel, 16-22 Great Russell Street, London, WC1B 3NN. Representatives from the project team will be at the exhibition to answer questions about the development.
PEDICABS AND PUBLIC LOOS – HAVE YOUR SAY
Many local people express their concern about the behaviour of pedicab operators in Covent Garden – the dangerous driving and disregard for traffic lights and one-way streets, the reckless and illegal turns at junctions and the obstruction of foot and carriageways . Then there's the noise from amplified music on moving and parked up pedicabs, not to mention from their screaming passengers, late at night and in the early hours in our narrow, residential streets. The CGCA's view is that pedicabs are dangerous, noisy and a menace.
Camden Council is currently consulting local residents and businesses on proposals to curb the anti-social behaviour associated with pedicabs  using a new power, a Public Space Protection Order (PSPO) which enables the police or  accredited council officers to issue on-the-spot fines of up to £100. The powers can be applied at specific times or in specified areas.
Residents and businesses are being asked for their views on whether or not a PSPO should be put in place, the terms of its use and for any other comments, including any details of possible alternative options as well as arguments against the proposals. One question the CGCA has is does the Council or the Police have the manpower or will to enforce a PSPO?
The consultation can be found on-line. The deadline for comments is Monday, 15th February.
Caught Short in Camden?
Every doorway in Covent Garden has probably suffered from being used as a public loo. Now Camden is asking for your views on the future of their public lavatories. In Covent Garden that means those in Lincoln's Inn Fields, where the proposal is to make them 'pay as you go', operated by a commercial company.  The CGCA wonders whether the very small saving likely to accrue from this particular change will cover the cost of clearing up after those, unwilling or unable to pay, who will use the Fields and surrounding streets instead.
Another proposal is to work with local businesses to develop community schemes. This would mean that participating local shops and cafes would make their lavatories available to the public, for which they would be paid a contribution of up to £750 a year.
The CGCA thinks that one thing is certain – we need far more public loo provision in the West End and it needs to be of a decent quality
You can give your ideas and views on the proposals on-line.  The deadline for comments is Sunday, 28th February.
———-
COVENT GARDEN COMMUNITY CAROL SERVICE
Thank you to everyone who came to the  Community Carol Service  held in St Paul's Church, Covent Garden on Monday 14th December.  The church was full for a magical evening of light, music and readings, led by the Rev Simon Grigg.  After the service, most people stayed on for refreshments and the convivial opportunity to catch up with neighbours and friends.
Music was provided by the Choir of St Paul's, the Children's Choir of St Clement Danes School, organist Simon Gutteridge and the rousing Covent Garden Brass quintet. We were privileged to welcome three wonderful soloists who treated us to Mozart, Schubert and Dunhill – international soprano Alison Pearce, accompanied by Simon Gutteridge, and, from the Royal Opera House's Jette Parker Young Artists' programme, tenor David Junghoon Kim and soprano Jennifer Davis, both accompanied by the programme's artistic director, David Gowland. And of course the congregation joined in with the well-loved, familiar carols.
Readings were given by the Deputy Lord Mayor of Westminster, Councillor Louise Hyams and the Deputy Mayor of Camden, Councillor Nadia Shah; by Liam Burns of Covent Garden London, Angela Abrahams, Head of St Clement Danes School, Metropolitan Police Commander Penny Banham and by our own  Vice Chairwoman, Amanda Rigby.
Our special thanks go to Covent Garden London for generously supplying the refreshments and to Blooming Good Scents of High Holborn for donating the flowers for the soloists and school. Christmas is really coming.
——
CALL TO ALL PATIENTS OF THE SOHO SQUARE GP PRACTICE
(Doctors Brassey and Cheung)
MONDAY 26th OCTOBER 2015 : YOUR SURGERY NEEDS YOUR VOICE
At stake is who the NHS appoints to manage our practice
COME TO THE SURGERY,  (entrance at 1 Frith Street) anytime between 4.30 and 8.00pm. Members of the  Patients' Participation Group and Patients' Action Group will be there to call for a provider who will put patients before profits.
Can't come?  email sohosquareppg@outlook.com with comments or for more information.
———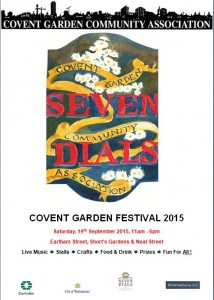 COVENT GARDEN FESTIVAL 2015
Thank you to everyone who came to the Neighbourhood Festival last month. The  weather was kind to us and we had a lot of fun.
We are very grateful to the many local businesses who generously donated valuable prizes for the CGCA's fundraising raffle and auction and to the many people who bought tickets. The funds raised will be put towards our continued efforts to protect and promote the interests of the Covent Garden community.
Our local businesses who supported the festival this year with prizes and/or taking a stall on the day were:
Astrology Shop, Balthazar, Blow, Canela, Chez Antoinette, Covent Garden Academy of Flowers, Covent Garden Dental Practice, Crown and Anchor, The Diner, Homeslice, Hospital Club, Hotel Chocolat, Keihls, Laduree, London Graphic Centre, M&S, Neal's Yard Dairy, Nuffield Health, Opera Tavern, Pop Boutique, Kopapa, Pix, Primrose Bakery, Pollock's Toy Shop, Punjab Restaurant, Pylone, Rossodisera, Royal Opera House, Sabon, Sakare, Schuh, Screenface, Stringfellows, Tesco, Two Brewers and Vidal Sassoon.
We are also grateful for donations from Shaftesbury PLC and for a grant from London Borough of Camden's Community Festival Fund.
And last but not least, we would like to thank the stalwart volunteers who once again gave so much time and energy to making the Festival happen.
---
CGCA Calendar of Events